Brainstorming
Business Brainstorming Sessions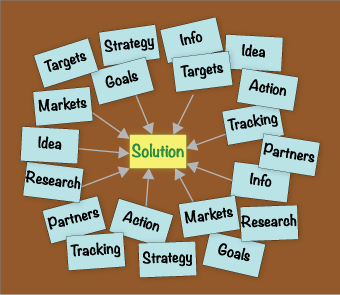 Do you know a business owner who needs help with questions they have about running their business?
During my brainstorming sessions, I've helped answer questions like...
"How will I stand out in a crowd?"
"What do I put in my ad?"
"What should my website say?"
"Where can I find more customers?"
"How do I price my services?"
"How do I get more out of my time?"
"How else can I get the word out about my business?"
You're not Alone
Sole business owners don't have a partner to bounce ideas off of. Partners who are too similar need some balance. People who are very logical or very creative need someone to help come up with ideas and the strategies and plans to implement them.
I become a temporary partner in your business, and I help come up with ideas, devise plans, and help come up with strategies to get around obstacles in getting where you want to go.
It has never failed to be an extremely productive, innovative and mind-blowing experience for me to have a brain-storming session with Criss! She inspires and empowers me to think outside the box, to clarify my goals and strategies, to create ideas I didn't know were in me--and which also emerge from her! In our brain-storming meetings, we have created book cover designs, CD concepts, seminar structures and book ideas, to name only a few. Brain-storming is a process which has, for me, taken on an entirely innovative and exponential creative dimension when in dialogue with Criss: it has become an essential aspect of my ongoing creative and strategic work as author, coach, and speaker.
Sheila Pearl, MSW, Relationship Coach
"Is this a good idea?"
I help people deal with ideas: too few, too many, a lack of strategy, or a lack of ways to find people to sell an idea to. During a brainstorming session, we tackle one area at a time, and when we have a plan to make progress in that area we move to the next item or person, depending on whether it's an individual brainstorming session or a group brainstorming session.
Bring a problem or issue to the table, and we'll work on it together
What to sell, how to sell it
How to get leads, clients and referral partners
Increasing awareness
Clarifying marketing content
Driving traffic to your website
Leveraging the power of social media
and more (of course!)
I guarantee that attendees leave the brainstorming session with at least one new actionable idea that will help their business, or their next session of the same length is on me!
Upcoming group sessions
---
To inquire about availability, please email me below or call 845-820-0262 and let me know a good time to call back to schedule:

Latest Developments
Related Websites