FAQ
What graphic design services do you offer?
I specialize in raster-to-vector, original logos and concept-to-logo design. I also provide print design and printing services.
Don't forget, I also provide website services including custom programming (which is why it's under its own separate tab from graphic design).
What is Raster Art?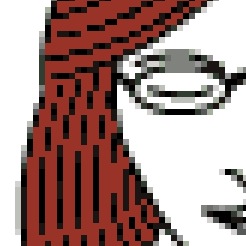 Raster
Raster art is a file that is drawn dot-by-dot. It is a specific resolution or quality level. If you change the size and zoom in, you can see the dots.
Cameras create raster artwork, as do most paint programs or photo-editing software. Raster art is not appropriate for most logo uses, however some designers and software will create raster logo art anyway.
If you have a raster art logo and you need it re-created as vector artwork, please contact us.
When would I want Raster Art?
Some services only accept raster artwork, such as Facebook or Flickr. To be certain that you can post photos and images or illustrations on the web, you will want raster graphics.
What is Vector Art?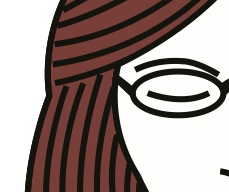 Vector
Vector art is drawn by lines, curves and points by way of geometric calculations and can be increased in size all the way up to billboard dimensions without losing its integrity. All logos should be vector artwork to ensure clarity at any size. Other applications for vector artwork are for imprints, embroidery, screen printing, etching, etc.
We create all of our logos, artwork, business card designs, and more using vector art. One of the great advantages is that pieces of your job can be re-used for other work at minimal expense -- for example, we create a logo that is used on your business cards. Later you can use the same logo on a mug. If you are interested in having a logo or illustration created as vector art, please see our vector art page.
We only use raster art (such as photographs) if it is required to do so (for example, if you want a head shot on your business card).
As the web changes, you may see .svg files showing up more and more often -- this is a file format that can contain vector graphics (in fact it stands for "Scalable Vector Graphics"). As HTML5 rolls out across the web and browsers, this may become more common.
Is my file raster or vector?
Unfortunately vector art files can contain both raster and vector artwork. So you can never know for certain whether a file is 100% vector art based only on its file name extension. However, there are file name extensions that definitely are NOT vector art. So if you have a JPEG file, for example, you know that your file is NOT vector art.
The only way to know whether a file that "could be vector" is 100% vector art is for it to be opened in a vector art program and inspected. Contact us and we can do this for you at no charge. If your art contains a photograph (like your headshot) it is very unlikely that it is 100% vector art.
| Could be Vector | Definitely Raster |
| --- | --- |
| .pdf | .jpg or .jpeg |
| .eps | .tif or .tiff |
| .ai | .gif |
| .svg | .png |
| .wmf .cdr .dxf .plt | .bmp .pcx .psd |
When you work with us, we will supply you with both vector and raster formats of your work files.

Related Websites